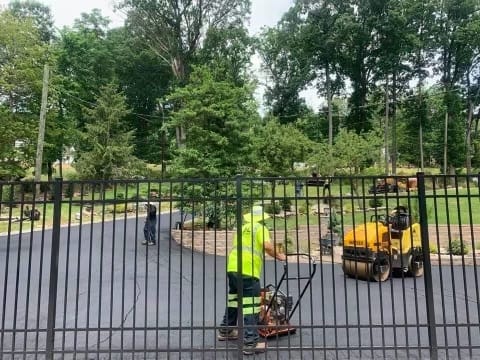 About RX Sealers
For over 23 years RX Sealers provides high-quality asphalt and substrate services. RX Sealers specialize in all phases of asphalt. Whether it's seal coating, paving, pothole repairs, crack filling, line striping, or patching. Our dedication to our customers is second to none. We strive to provide our customers with the highest quality work and craftsmanship possible.
RX Sealers takes tremendous pride in the attention to detail for every job. In addition, we are proud of our outstanding reputation. We have become known for our professionalism, fantastic team, excellent customer service, and responsible business practices. We aim to create long-term relationships with every customer and ensure every project is completed to your satisfaction!
RX Sealers Services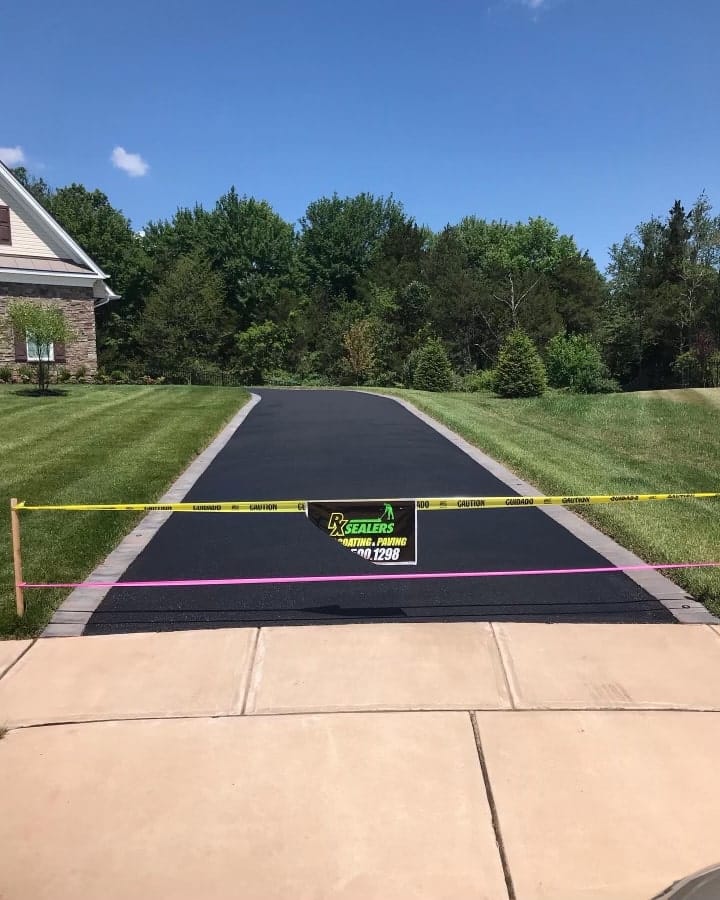 Sealcoating is applied to asphalt surfaces as a preventative measure to protect the paved surface from ultraviolet rays, water, salt, gasoline, and oil – all of which are substances that erode and damage asphalt. The sealcoating protects the substrate, filling in any small cracks or areas where moisture can seep in, and preventing damage to your asphalt and its lifespan. Sealcoating will also provide a clean, new appearance and improved aesthetic.
The main benefits of sealcoating are:
The Aesthetics – When covered with a newly applied layer of sealant, asphalt looks newer and is much more attractive. Sealcoating also helps project a positive image of the residence or company and can possibly even improve property values.

Protection – Repaving a driveway or parking lot can be expensive. The value of protecting your parking lot from cracking, fading, and erosion can not be overstated. Beyond the aesthetic value, protecting your pavement from weather, water, and regular wear and tear is the most efficient way to protect your investment.

Longevity – Regular pavement maintenance, including sealcoating, is the best way to ensure the longevity, integrity, and value of your pavement. Like any property investment, the more you care for your pavement, the less it costs to maintain over time.
Whether you own a business or home, the condition of your parking lot or driveway should be very important to you, your guests, their cars, and your property value. Asphalt that is not safe and aesthetically pleasing, can negatively affect your residential or commercial property.
Asphalt is the most common and preferred material for commercial parking lots and driveways. There are several factors that can affect the quality of your driveway and help protect it from future damage. Calling a professional asphalt contractor to conduct maintenance is incredibly important as soon as you see any issues.
Asphalt can become faded and dry when it is exposed to damaging UV rays from the sun or from extreme weather conditions. Asphalt can expand from heat, which will cause it to crack or gradually wear out. When asphalt forms cracks, water from rain or snow will seep into these crevices which will cause cracks to grow larger. Without remediation, a pothole can potentially form.
Eventually, all of the above-mentioned conditions will result in needed to repave a driveway. This process does not need to be overly frustrating or costly and the results should last for around 25 years.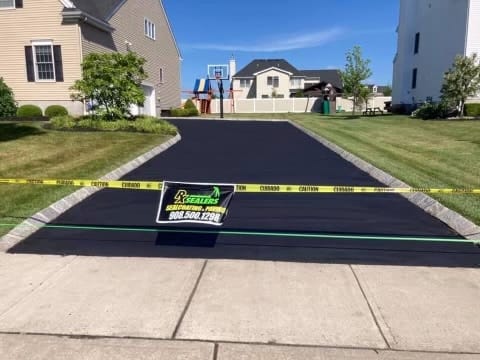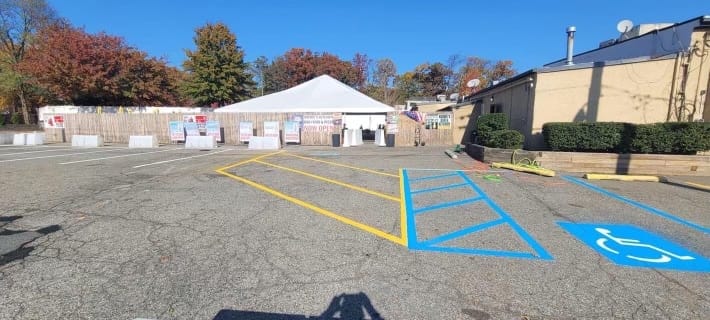 Have you taken a look at your parking lot lately? Does it seem worn out, or is it vivid and bright?
Your parking lot may not seem the face of your business, company, shopping center, or office building. However, it is the very first thing your customers see as they pull onto the property. It is also the thing they step onto when they get out of their vehicle. Your parking lot is the last thing they see as they exit your property. First and last impressions are important. Send the right message.
RX Sealers can help you change the way your customers begin and end their experience at your business. Creating a safe traffic flow, organized use of space, and most importantly, a safe driving environment, all of which will make any parking lot more problem-free and efficient.
We will clearly stripe parking spots, directional arrows, handicap-accessible parking spaces, and curbs to improve the vehicle flow in and out of the parking lot in the safest manner possible. Pavement marking also greatly reduces owner liability by ensuring your compliance with the Americans with Disabilities Act (ADA).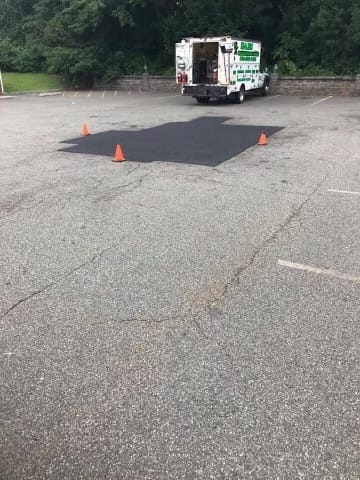 Over time, every asphalt driveway or parking lot will develop cracks and pits. Weather, water, on top of wear and tear will eventually cause issues with any paved surface.
A combination of pavement maintenance that includes crack filling and seal coating can double (or more) the life span of your asphalt pavement and provide maximum curb appeal. Crack filling and patching costs a fraction of repairing or replacing your entire asphalt pavement. It is imperative to patch and fill cracks and imperfections while they are small, as crack filling prevents crack growth and keeps new cracks from forming.
Left unchecked, cracked, and unpatched pavement or asphalt will allow rain and moisture to flow through the pavement and continuously erode base materials. This ultimately results in potholes and eventually pavement failure. Filling potholes and cracks properly will help prevent the moisture from rain and weather from permeating the pavement, which will eventually cause erosion and possibly failure. By eliminating cracks and crevices that allow water to enter, the rate of corrosion of the pavement will be significantly slowed. Pothole repair and crack sealing also prevent the loss of aggregate from the edges of the crack, reducing costs over the lifetime of the paved surface.
Who doesn't want their home to look its best?
Power washing your driveway, deck, siding, and other exterior areas of your home, you can quickly and effectively remove dirt build-up, debris, and other sediments. Power washing will not only help the space look its best, but it also preserves your home and yard by removing algae, mold, chalk, possible insect habitats, weeds, and more. If left unchecked, this build-up will, over time, cause damage and increase the lifetime repair costs.
Homeowners are often tempted to try and power wash these areas independently. Without proper operating knowledge and handling care, power washers can cause harm to the operator and damage the surfaces you are trying to maintain.
RX Sealers has all of the equipment and cleaning supplies- detergents and degreasers, to expertly clean and refresh your outdoor areas and prevent further damage.
Contact Us
Have questions or need help? Use the form to reach out and we will be in touch with you as quickly as possible.
Testimonials
Why People are Choosing us
"Steve was great to deal with and did a superb drive sealing my driveway which had a number of issues. Highly recommended!"
"Very professional and courteous. Spent time explaining the process and follow up. Would definitely use them again and recommend them."
"I've been using RX Sealers for at least the last 6 or so years and they are excellent. Professional Every year, my driveway comes back to life. Looks brand new. I highly recommend them